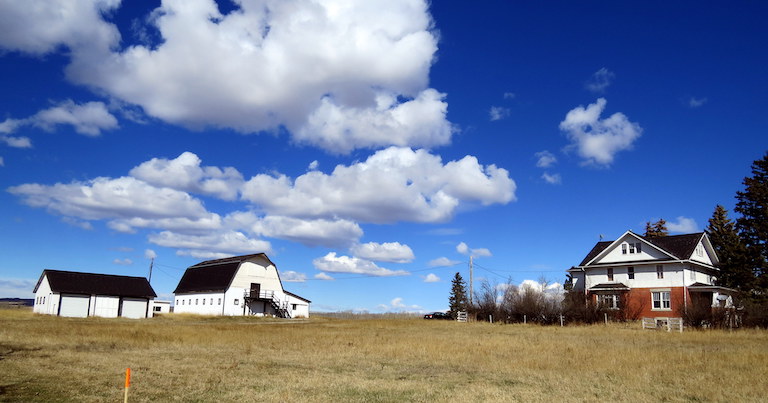 Built in ca1916, the McIntyre Farm Cultural Landscape comprises of a farm yard and complex of farm buildings: a ca1916 farm house, a barn and a garage from the early 20th century, and a ca1965 tack shop. The McIntyre Farm Homestead was annexed into the Town of Okotoks for the D'Arcy Ranch subdivision on December 31, 1994. The buildings and the lands have had minor alternations over the years with the most significant cultural landscape changes from new surrounding residential development which began in 2015. The house had been lived in until 2018 and the barn used for a movie set around 2004 and now, along with the garage and tack house, used for storage.
With a desire to implement the recently Council-approved Municipal Heritage Designation Program, the Town engaged J M Gartly Design Studio to undertake the preparation of a Heritage Conservation Feasibility Study to determine the structural and overall condition assessment and make recommendations for the McIntyre Farm house and barn.
Project consulting role included:
Project managed the project and review of the evaluation of the Statement of Significance and Statement of Integrity for the 104-year old house and barn as the foundation for the Conservation Feasibility Study;
Prepared the Conservation Feasibility Study including, but not limited to; as-found drawings and photographs, a condition assessment, conservation treatments and intervention recommendations per the Standards and Guidelines for the Conservation of Historic Places in Canada including order of magnitude of cost estimates for the buildings; and
Worked with the Town on the options for conservation and an adaptive re-use direction and/or process to support feasibility of conserving the building.