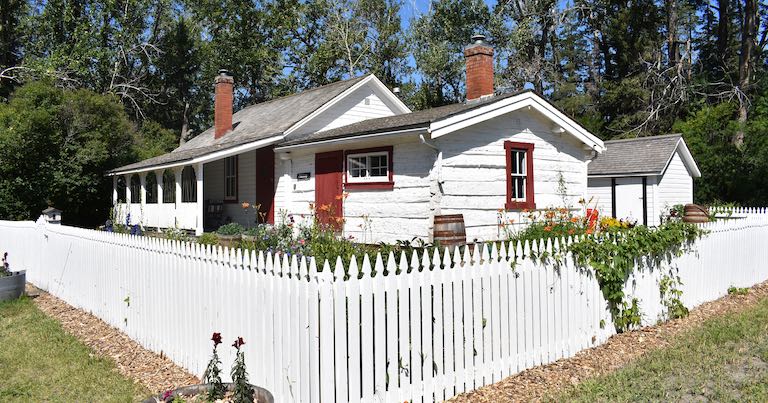 As a part of the Sheppard Family Park, the Maccoy Cabin & Homestead was unfortunately severely impacted by the Highwood River Flood in 2013. The Maccoy Homestead is a Provincial Historic Resource and the Sheppard/Maccoy House is a Municipal Historic Resource. The Maccoy Cabin & Homestead is valued for its contribution of women's labour to the success of homesteading and agriculture in rural Alberta, the evolution of a farmstead in the southern Alberta foothills, and the architectural significance of the original 1883 homestead cabin that was later added onto in 1925. The value of the Maccoy Homestead also includes the extant historic structures of the coal/garden shed, root cellar, guest house, garage, outhouse and footbridge across the Little Bow River.
Initial clean-up, sanitation, gradual drying out, and some preservation and rehabilitation work was undertaken. With a desire to again activate the buildings and site J M Gartly Design Studio undertook the preparation of a Conservation Plan for the Maccoy Cabin & Homestead.
Project consulting role included:
Project managed and prepared a Conservation Plan to address the on-going rehabilitation of the Maccoy Cabin & Homestead; and
Working with the Town and Provincial Heritage Conservation Advisor to do a complete Historic Paint Chronology, prepared conservation interventions based on a condition assessment of the building,   recommended future interventions and interpretation opportunities and provided a monitoring and maintenance plan with an estimated budget for the Town to manage the conservation of the structures and the site going forward.