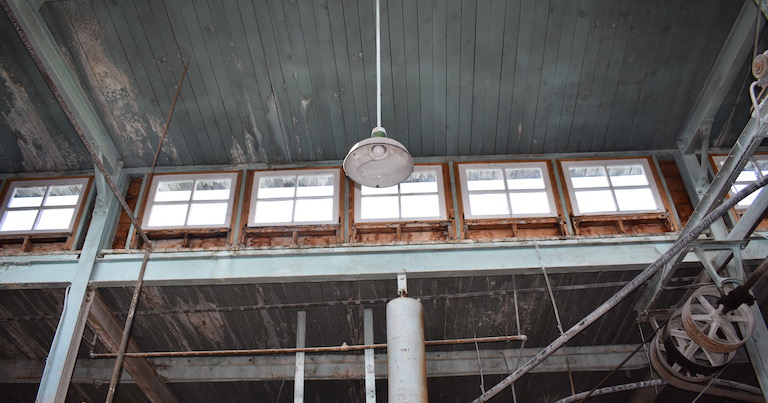 Built in 1937-38 (factory) and 1947 (warehouse), the Hycroft China Ltd. Factory cultural landscape comprises of a south (factory) building, north (warehouse) building, two gas well outbuildings, and a spur line between the two buildings. The Hycroft China Factory, along with its associated buildings of Medalta and the Medicine Hat Brick and Tile is a Provincial Historic Resource site. The Hyroft buildings have relatively sat vacant since the factory closed in 1988. Interim uses over various years have included archaeology and collections offices, file storage, archaeology lab, mould storage, an Artist in Residence program studio, and clay storage.
The Hycroft buildings and site were significantly impacted by the 2013 Flood. At that time, conservation interventions focused on stabilizing areas of significant concern. The work done on the Medalta Long Range Plan identified the need to prepare a Conservation Plan of all the buildings and site with for the short- and long-term conservation of Hycroft. With a desire to conserve the Hycroft buildings and site, J M Gartly Design Studio undertook the preparation of a Hycroft China Factory Cultural Landscape to determine the structural and an overall condition assessment for the Hycroft buildings and site and to further recommend conservation interventions to help the Board prioritize their decisions in conserving Hycroft as a part of a future vision.
Project consulting role included:
Project managed and prepared the Conservation Plan including, but not limited to: grant approval, photographic documentation, as-founds drawings, an architectural condition assessment and structural condition assessment from an engineering firm, conservation treatments and intervention recommendations per the Standards and Guidelines for the Conservation of Historic Places in Canada including a maintenance regime and order of magnitude of cost estimates including a 5-year plan for rehabilitation; and
Worked with the Executive Director, Board, the Medalta Long Range Plan team of experts including the provincial heritage conservation advisor on the history of the building's rehabilitation and structural condition assessment to achieve a comprehensive Conservation Plan.